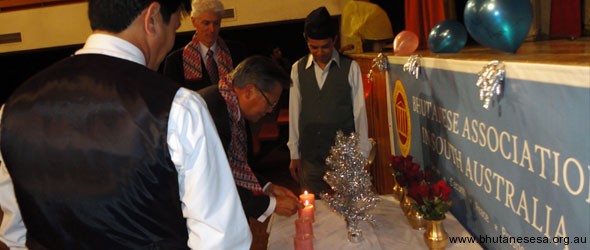 Bhutanese resettled in South Australia celebrated their second anniversary of resettlement in Australia at Dom Polski Centre in Adelaide on 14th May 2010, Friday.
Commemorating the day on which two families arrived in Adelaide under the current resettlement programme of the Australian government, the Bhutanese Association in South Australia(BASA) organized it to entertain the guests with various cultural presentations, share stories and cuisine.
The formal programme commenced at 6pm with the candle lighting by the chief guest, Lieutenant Governor of South Australia, Mr. Hien Van Le AO. Also present at the function were the representatives from Department of Immigration And Citizenship (DIAC), Migrant Resource Centre of South Australia and over 50 other distinguished guests.
Sushil Niroula coordinated the event with the help of active participants and volunteers. A visualized story of one of the victims of torture from Bhutan, Pabitra Gautam , was presented.
Addressing the function, the Lieutenant Governor, expressed his commitments to support the Bhutanese community settle well in South Australia. He said, ''It is tragic in today's world that the Bhutanese people who have such a long history and culture would be prosecuted and forced to flee their homes simply for not confirming to some arbitrary rules imposed by the authoritarian government' . He assured that those Bhutanese people who are resettled in South Australia could remain free from fear of prosecution, torture and detention.
Two of the songs presented separately by the elderly women and a group of the artists from the community were filled with words of thanks to Australia for giving them new life.
Bikram Adhikari, the public officer of BASA, ended the programme, attended by more than 400 resettled Bhutanese, with a vote of thanks.
By Ichha Poudyel