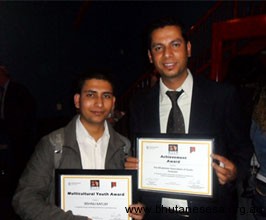 Multicultural Youth of South Australia (MYSA) honored the Bhutanese youths and their community organization with the Recognition Award at the 'Night of Stars Refugee Week Event' on June 20th 2010.
The recognition award was given away to the Bhutanese Association In South Australia (BASA) and one individual, Bihnu Kafley from the same community. Kafley was honored for his active participation in the activities of MYSA. BASA was bestowed the award in recognition for involving community youth in its executive body and making progress in a short period of time by promoting them in various activities.
The award has added enthusiasm and energy to the community youth and their organization in South Australia.
''The bestowal of Recognition Award by MYSA and Family SA is the mark of recognition and appreciation of effort made by the Bhutanese in South Australia to actively involve the youth for community development and progress'', said Jogen Gazmere, the Chairperson of BASA. He also expressed his confidence that the award would encourage every Bhutanese to work harder to make the community organization more vibrant, productive and purposeful.
Tara Gautam, the Education Desk coordinator of BASA received the award in presence of the officials from Family SA, Police and the Department of Immigration And Citizenship (DIAC).Receiving the award, Gautam thanked MYSA and its partner organizations for nominating BASA for the award.
Ichha Poudyel