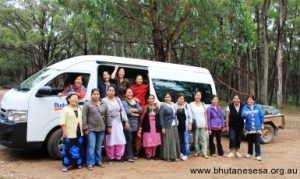 Bhutanese Association in South Australia (BASA) as part of the SGP program organised outdoor camping for Bhutanese mothers on December 16, 17 and 18.
15 mothers from the community experienced the first camping life at Deep Creek Conservation Park, about 110 km south of Adelaide, near the popular destination Victor Harbour.
This camping was targeted to give opportunity to our hard working mothers, who spend most of their time in kitchen and looking after children, to experience the outdoor life.
BASA organised tents and sleeping bag to sleep in while the participants carried pillow, sirak and a bed sheet and some comfortable shoe to do the Bush Walk.
Mothers at the conservation park office learnt how to register themselves to enter park. A park officer talked to them about dos and don'ts in park.
Mothers also leant setting up camps with little support from project officer and volunteer.
During the stay, they had a small session on Parenting presented by a worker from Migrant Resource Centre. She talked about how to take care of kids while camping.
They visited Tapanappa View Point from where Kangaroo Island can be seen. They visited Blow Hole Beach., 1.5km walk (one way) from Cobler Hill Picnic Area.