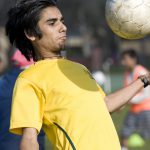 Two teams from South Australia are preparing to participate in the interstate soccer carnival to be held in Brisbane this winter.
Organised by Bhutanese Community of Brisbane, the event will be held on July 1-3. Bhutanese soccer clubs from all states where Bhutanese live will be participating the competition.
Bhutanese in Adelaide are preparing for two teams and training, management and coordination is underway. The training is supported by Parafield Garden Soccer Club, which has been helping the Bhutanese soccer players since few years.
Since the team members have to bear travel cost, Adelaide clubs are planning to put stall at BAASA annual day event for fund raising. They are also seeking financial support from other individuals and organisations.